In this immersive workshop series with artist Elizabeth Castaldo, students will learn how to conceptualize and create their own artist book.
This workshop takes place across four sessions:
Tuesdays, November 17 – December 8, 6-8pm EDT
In this four-session workshop series, students will be introduced to the artist's book creation process. Starting from idea and working toward execution, students will develop strategies for brainstorming and working with sequential and image-based content, bridging the gap between concept, material, process, form, and finished work of art. Students will learn to make three book structures, accordion, pamphlet, and drum leaf binding, and then create their own one-of-a-kind artist's book. This class is ideal for artists who want an introduction into the world of artist's books or for those curious about artistic expression with the book form.
There are 8 spots open in this workshop.
If you cannot comfortably pay tuition but are interested in taking this class, please consider filling out our financial assistance application here. This application should be completed three weeks before the workshop's start date.
Required materials:
– ideas, images and materials to work with or incorporate into the artist's book. This could be collage materials, photos, special papers, decorative papers, drawing materials.
– text weight paper for inner pages of pamphlet and accordion
– cardstock or heavy text weight paper for inner pages of drum leaf binding
– cover weight paper for book covers
– 3M 416 double-sided transfer tape or similar
– needle
– bookbinding thread or other heavy weight thread
– bone folder
– awl
– pencil and eraser
– exacto knife or snap off Olfa knife
– a small metal triangle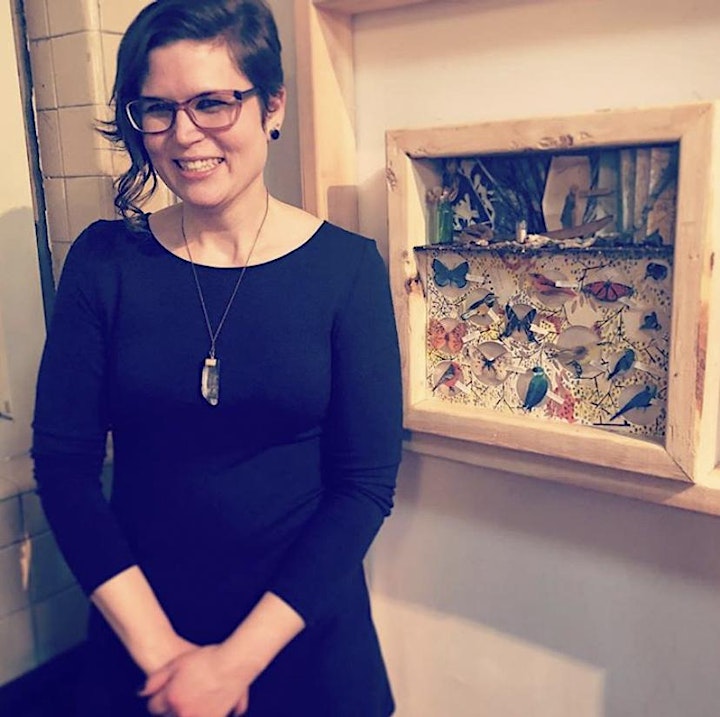 About the Instructor:
Elizabeth Castaldo is an artist, printmaker, and bookbinder living and working in Peekskill, NY and New York City. She received her MFA from SCAD Atlanta where she was a Dean's Fellow in Printmaking and her BFA from the School of Visual Arts. Elizabeth works with printmaking, drawing, and collage to make works on paper and artists books that explore nature and the body. She has completed residencies at the Center for Book Arts, NYC and Printmaker's Open Forum. In 2019 Elizabeth's work was included in the traveling exhibition, "Freed Formats: The Book Reconsidered". She organized the exchange portfolio "Earth/Mother" for the SGCI 2020 conference "Puertografico". She teaches printmaking and book arts at Parsons, Nassau Community College and the Center for Book Arts NYC. Elizabeth's work is held in many private and institutional collections including at Savannah College of Art and Design, Carnegie Melon University, Yale University.
All images provided courtesy of the instructor.
About the Center for Book Arts:
The Center for Book Arts promotes active explorations of both contemporary and traditional artistic practices related to the book as an art object. The Center seeks to facilitate communication between the book arts community and the larger spheres of contemporary visual and literary arts, while being a model organization locally, nationally, and internationally within the field. We achieve this through exhibitions, classes, public programming, literary presentations, opportunities for artists and writers, publications, and collecting.