Teachers are encouraged to join this Professional Development workshop that explores simple bookbinding techniques for ages 7+.
In this two-hour course, participants will learn how to make a few simple books that are kid-approved, low-mess, and high-impact, along with tips to teach in the classroom. This workshop is designed for teachers of 7 to 12-year-olds, with methods and techniques that may be modified to accommodate other age groups. We'll be looking at non-adhesive bindings created by folding and stitching.
Using simple materials, the instructor will go over single-sheet origami pamphlets (how to make, modify, and connect them); simple pamphlet stitch with a wraparound-style paper cover; and beaded pamphlet stitch with a pocketed paper cover.
Students should have the following materials:
PAPER:
– TEXT WEIGHT:
– 4 sheets of text weight paper – plain old copy paper is fine, letter size (8.5″ x 11″ – A4, if you're overseas)
– CONSTRUCTION PAPER:
the instructor *strongly* suggests Tru-Ray by Pacon; it is superior to other construction papers and will yield more satisfying results.
– 9″x12″ – 10 to 12 sheets in various colors
-12″x18″ – 2 sheets (one, you'll have to cut down further)
– 9″x15″ – 1 sheet – make this by trimming down a 12″x18″ piece of construction paper. Save the scraps for collage decoration in class
SOMETHING TO FOLD WITH:
A bone folder works, of course, but for a big classroom, you might need to go with something less expensive, like popsicle sticks! For this class, if you don't have a bone folder, you can use a popsicle stick (NOT the wider tongue depressors – they can break in half lengthwise easily if you put pressure on them); a non-serrated butter knife; or the side of a ruler
SOMETHING TO CUT WITH:
Scissors. If you want to bring a pair of kids' scissors instead of yours, feel free.
THINGS TO MAKE HOLES WITH:
– A push pin – the extra-fat ones are great for this (like these, from Staples: https://www.staples.com/Staples-Plastic-Push-Pins-Asst-Giant-12-PK/product_1807431) – if you can only get your hands on a regular-size push pin, I'll tell you how to best make it work.
– A hole punch (OPTIONAL) or something else you can punch a small hole with (if it's a smaller hole, so much the better) – BUT – it's not absolutely necessary; don't go out and buy one if you don't have one! If you don't have one, you can make do with your big push pin and/or scissors, I'll explain in class.
– A rolled-up dishtowel OR a few paper towels rolled up together – in either case, put rubber bands around both ends of the roll to hold it together in a roll shape
THINGS TO GLUE WITH:
– A glue stick (if you need to buy a new one, I always tell people to get a fat one to keep on hand – they don't dry out as fast and have much better coverage)
– White glue (OPTIONAL) – this might be useful for one thing during class but isn't required – if you don't already have it, don't go buy it
– Scrap paper to protect your books and table when gluing (plain newsprint; junk mail; glossy newspaper circulars – NOT newspaper)
THINGS TO SEW WITH:
– A blunt needle, like a tapestry needle (if you don't have anything blunt for your own personal use that's fine, but note that if you use needles with kids, they will need to be blunt, eg, a #18 tapestry needle)
– Craft thread or similar (NOT embroidery floss)
THINGS TO CONNECT OTHER THINGS WITH:
– 3 or 4 rubber bands, smaller and thinner rather than longer and fatter – #16 is what I use, but use whatever's in your house. Just not fat wide ones.
– 2 small binder clips (OPTIONAL – you don't have to have these, but I provide them to my students in class and will be demonstrating how I work with them). If you don't have them, it's ok, you can work without them.
– A brad (OPTIONAL – but nice to have.). If you want to get fancy, make it a decorative brad. For those who don't know what brads are, here's an example: https://www.michaels.com/pastel-medium-brads-by-recollections/10374712.html
THINGS TO DECORATE WITH:
– beads (OPTIONAL but nice to have): any kind that your needle will easily fit through – we'll add beads to one of our bindings – but if you don't have any, you can make the book without. For classroom use, I suggest mini pony beads.
– Washi tape (OPTIONAL, just fun to have)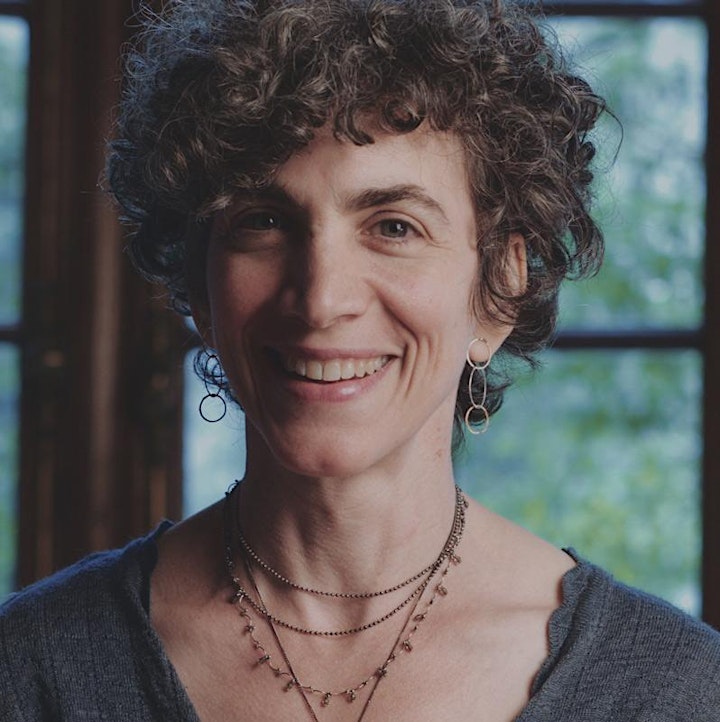 About the Instructor:
Stephanie Krause is a teaching artist and museum educator who creates artist books and illustrations based on personal experience and flights of fancy. She was the Featured Artist at NYC's Center for Book Arts in 1995. Stephanie has led art classes at libraries, museums and schools throughout NYC: family and school programs at the Metropolitan Museum of Art, workshops for the NYC homeschool community, and school and senior center residencies through Studio in a School, the Staten Island Chidren's Museum and Teachers & Writers.
All images courtesy of the instructor.
About the Center for Book Arts:
The Center for Book Arts promotes active explorations of both contemporary and traditional artistic practices related to the book as an art object. The Center seeks to facilitate communication between the book arts community and the larger spheres of contemporary visual and literary arts, while being a model organization locally, nationally, and internationally within the field. We achieve this through exhibitions, classes, public programming, literary presentations, opportunities for artists and writers, publications, and collecting.