Learn the art of papermaking and embroidery with instructor Iviva Olenick!
In this two hour course, students will use found materials to create handmade paper. Using scrap and recycled papers the instructor will demonstrate embroidery stitches to draw designs floral and organic designs, and to incorporate mixed media. This workshop will include a detailed step-by-step instruction on the papermaking process, an extensive embroidery lesson, and a discussion on how to continue the project beyond the class time.
Students will need the following materials:
– paper scraps/recycled paper/paper that can be torn (junk mail/old documents, newspaper, construction paper, etc); nothing too glossy or glue-y
– blender, food processor or shredder (optional)
– small screen with a frame emptied of art and without glass (optional)
– towel for household use/cleaning
– parchment paper
– bowl or small bucket for mixing pulp
– tap water
– needle, embroidery thread, fabric (cotton muslin preferred), fabric scissors, embroidery hoop
– scrap papers to sew with/on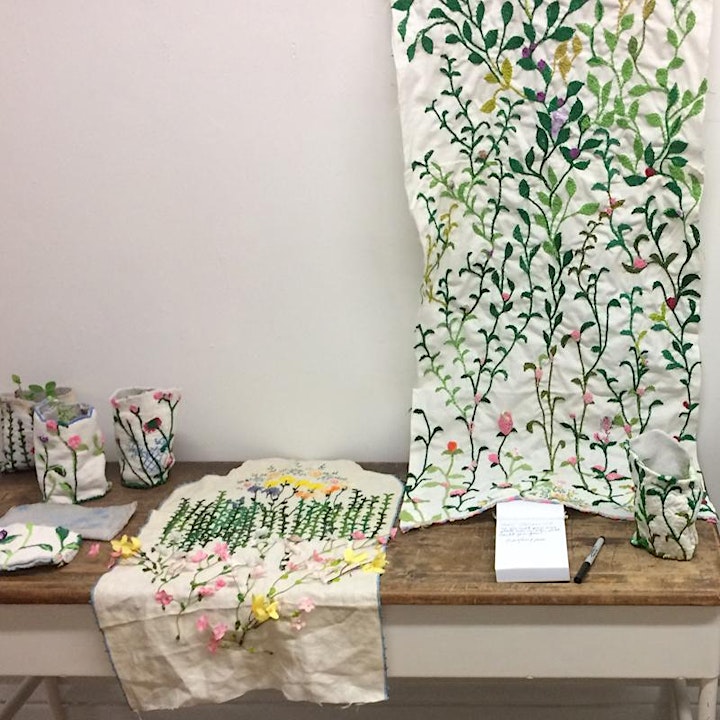 About the Instructor:
Iviva Olenick is a Brooklyn-based artist developing textiles from seed to fiber and dye and textiles as texts. Her work has been exhibited all over the United States, including the Philadelphia Museum of Art; Museum of Design Atlanta; the Hunterdon Museum, NJ; Sugar Hill Children's Museum of Art & Storytelling, NYC; the Center for Book Arts, NYC; the Old Stone House, Brooklyn; Wyckoff House Museum, Brooklyn. Iviva is a faculty member of SVA's MFA Art Practice program where she teaches Fibers. In addition, she gives artist talks and designs intensive textile-based workshops for museums and universities.
Images courtesy of the instructor.
About the Center for Book Arts:
The Center for Book Arts promotes active explorations of both contemporary and traditional artistic practices related to the book as an art object. The Center seeks to facilitate communication between the book arts community and the larger spheres of contemporary visual and literary arts, while being a model organization locally, nationally, and internationally within the field. We achieve this through exhibitions, classes, public programming, literary presentations, opportunities for artists and writers, publications, and collecting.