In this two-session workshop, instructor and artist Milcah Bassel will demonstrate how to create custom storage enclosures for artwork.
This class takes place across two sessions:
Wednesday, September 23, 12-2pm EDT
Thursday, September 24, 12-2pm EDT
BOX IT is all about creating custom storage solutions for your accumulating artwork. The workshop will offer step-by-step demos and guidance in building portfolios, enclosures, and storage boxes. Inspired by our current pandemic-era limitations we will focus on home-friendly materials, tools, and processes. A primarily technical approach will give way to adaptation and variation. Soon your stacks of prints, drawings, documents, and artist book ephemera will have a proper home!
Students should have the following materials:
for pocket portfolios:
– text-weight paper
– minimum 4 sheets of 11 x 17" (preferably double, 22 x 36 ½")
for dimensional enclosures:
– bristol board
https://www.talasonline.com/Bristol-Board (10pt. or 20pt.)
– and/or any cover weight paper
minimum: 1 sheet of approx. 20 x 30"
for storage box:
– archival corrugated board (single ply)
https://www.talasonline.com/Heritage-Corrugated
– OR standard corrugated cardboard (single-ply)
minimum: 3 sheets of 16 x 20"
tools:
– self-healing cutting mat
– sharp blade (Olfa knife or exacto knife)
– bone folder
– pencil
– ruler
– triangle
adhesives:
– PVA OR Jade OR any white glue
https://www.talasonline.com/Jade-403
– double-sided tape, preferably 3M 415
https://www.talasonline.com/3M-415-Tape?quantity=1&size=40
– OR any glue stick
optional:
Students are welcome to bring specific items (a stack of prints, notebooks, etc) to build custom enclosures for.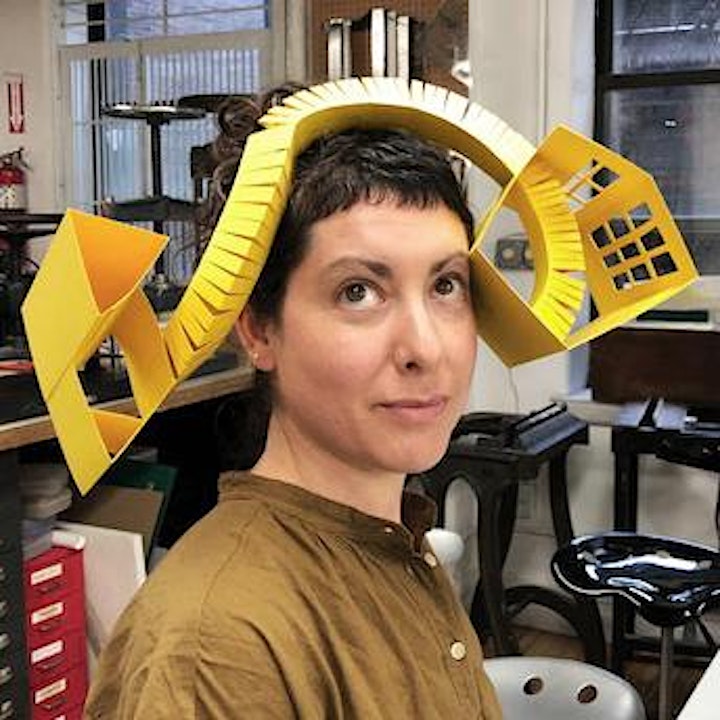 About the Instructor:
Milcah Bassel is a multidisciplinary artist raised in Israel and based in Jersey City. Her work is an experiential investigation of body-space relations incorporating installation, performance, drawing, and other media. She has exhibited and performed at the Bronx Museum of the Arts, Newark Museum, Zimmerli Art Museum, Soho20 Gallery, Pulse, EAB, Untitled, and Select art fairs, amongst others. Bassel earned a Post-Baccalaureate in Studio Art from Brandeis University and an MFA in Visual Art from Rutgers University. She is the recipient of a Brodsky Center residency and NEA grant (2014), Hadassah-Brandeis Institute residency (2015), Guttenberg Arts STAR residency (2017), Bronx Museum AIM fellowship (2017), Center for Book Arts workspace residency (2018), and was recently awarded a 2019 New Jersey State Council on the Arts Individual Artist Fellowship. Bassel is a part-time lecturer at Mason Gross School of the Arts at Rutgers University, and at SUNY Purchase College.
All images provided courtesy of the instructor.
About the Center for Book Arts:
The Center for Book Arts promotes active explorations of both contemporary and traditional artistic practices related to the book as an art object. The Center seeks to facilitate communication between the book arts community and the larger spheres of contemporary visual and literary arts, while being a model organization locally, nationally, and internationally within the field. We achieve this through exhibitions, classes, public programming, literary presentations, opportunities for artists and writers, publications, and collecting.