In this two-day workshop, learn how to make your own coptic stitch book with artist and bookbinder Liz Castaldo.
This class will take part on:
Monday, July 27, 5-7pm EST
Thursday, July 30, 5-7pm EST
In this online class, students will learn how to make a coptic-bound journal using objects you can find in your home as covers. Coptic binding is a versatile book structure that can be made without adhesives easily at home. Coptic bound books can lay completely flat and feature beautiful braided sewing along the spine. This structure is perfect for making your own sketchbooks and journals and is an excellent option for artist books as well.
If you cannot comfortably pay tuition but are interested in taking this class, please consider filling out our financial assistance application here. This application should be completed three weeks before the workshop's start date.
Required materials:
– 2 x flat found objects to use as covers (for example: hardcovers from an old book, sturdy postcards, parts from a game board, lego base plates, interesting food packaging, sturdy fabric, felt, plastic embroidery mesh, thin pieces of wood)
– 24 x text weight paper cut down to fit your covers (cut to the height of the cover by two times the width, grain short)*
– bone folder or a dull non-serrated butter knife
– heavy duty awl or drill depending on what you need to make holes in your book covers
– bookbinding thread, heavy duty sewing thread, dental floss, light weight twine or other sewing material
– sewing needle that works with your chosen thread
– scrap strips of paper or graph paper that are a little taller than your cover height
– pencil and eraser
– optional: a small weight
* Students are required to cut and prepare all of their paper. If you aren't familiar with paper grain direction, view this PDF to learn more about how to prepare your paper correctly for this workshop. (PDF includes two pages from Bookforms, an instructional book published by the Center for Book Arts.)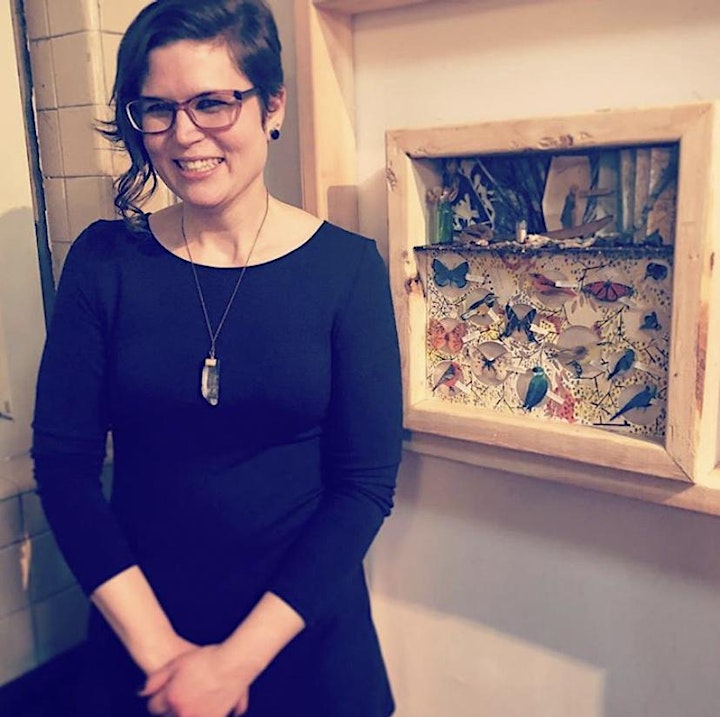 About the Instructor:
Elizabeth Castaldo is an artist, printmaker, and bookbinder living and working in Peekskill, NY and New York City. She was a 2017 – 2018 Scholar in Residence at the Center for Book Arts in New York City and recently attended a residency at Printmaker's Open Forum in Oxford PA. Castaldo received her MFA from SCAD Atlanta where she was a Dean's Fellow in Printmaking and her BFA from the School of Visual Arts. Several of Castaldo's artist's books were included in the traveling exhibition, "Freed Formats: The Book Reconsidered". Her work has also been shown recently at The Center for Book Arts NYC, The Atlantic Highlands Arts Council and The Patchogue Arts Council. Elizabeth teaches printmaking and book arts at Parsons School of Art and Design, Nassau Community College and the Center for Book Arts NYC. In addition to being in many private collections, Castaldo's work has been collected by the Savannah College of Art and Design, Carnegie Melon University, Yale University, and many other institutions.
All images courtesy of the instructor.
About the Center for Book Arts:
The Center for Book Arts promotes active explorations of both contemporary and traditional artistic practices related to the book as an art object. The Center seeks to facilitate communication between the book arts community and the larger spheres of contemporary visual and literary arts, while being a model organization locally, nationally, and internationally within the field. We achieve this through exhibitions, classes, public programming, literary presentations, opportunities for artists and writers, publications, and collecting.