This workshop with Scott McCarney is an introduction to not-so-fine binding with duck tape, glue sticks and/or staples.
This class will happen in two sessions:
Tuesday, July 7, 10am-12pm EST
Thursday, July 9, 10am-12pm EST
In the first workshop session, Scott will show examples of books that utilize common yet unusual supplies for book binding that illustrate how humble tools, techniques and materials can directly reflect the concept and even become the content of an artists book. Scott will also demonstrate how to make a concertina album, a simple yet elegant lay-flat book that is his go-to glue-stick binding. Two ways of folding a concertina will be demonstrated.
In the second workshop session, Scott will demonstrate a drummed board cover for the concertina album and introduce a woven-tape binding, another lay-flat structure with potent possibilities for artists books.
Students should have the following materials:
– 3 – 4 sheet of text weight paper measuring 8.5 x 11 inches (20 or 24 lb. copy paper works)
– 3 – 4 sheets of 8.5 x 11 inch cover weight paper measuring (60 – 80 lb. is good for sturdy pages; copy paper will work for making a sample)
– 2 pieces of cardboard measuring 3.5 x 4.25 inches (cereal box is good) — more if you want to experiment
– bone folder
– X-acto knife
– cutting mat
– scissors
– UHU glue stick
– stapler
– duck tape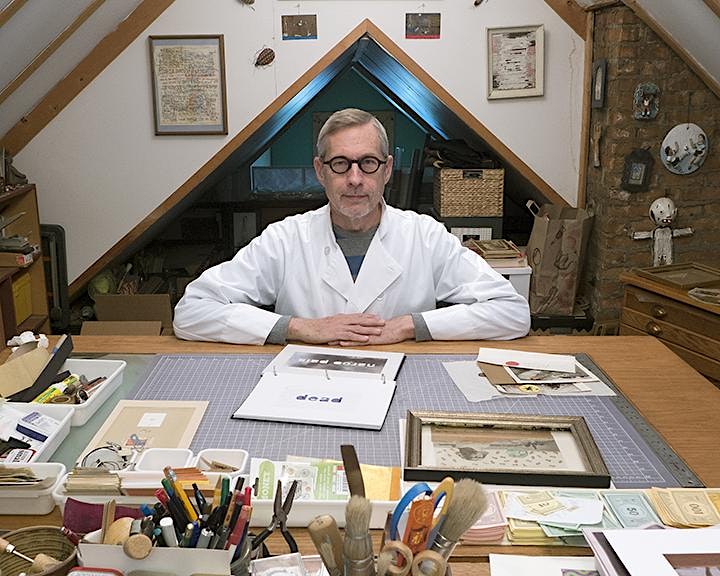 About the Instructor:
Scott McCarney is an artist, designer, and educator based in Rochester, New York. His primary art practice has been in book form since 1980 and spans many media, from offset and digital printing to sculptural and site-specific installation. His bookworks can be found in the collections of The Museum of Modern Art, New York; Victoria & Albert Museum, London; and Yale University Art Gallery, among others. His work is shown internationally (Sao Paulo, Brazil; Melbourne, Australia; Baku, Azerbaijan) as well as closer to home (Hallwalls, Buffalo NY; Everson Museum, Syracuse NY; Memorial Art Gallery, Rochester NY). His teaching and lecturing itinerary is varied and eclectic, carrying the banner of artists books to Australia, New Zealand, Korea, Mexico, and South America. He recently concluded 16 years of teaching in the College of Art and Design at Rochester Institute of Technology.
All images provided courtesy of the instructor.
About the Center for Book Arts:
The Center for Book Arts promotes active explorations of both contemporary and traditional artistic practices related to the book as an art object. The Center seeks to facilitate communication between the book arts community and the larger spheres of contemporary visual and literary arts, while being a model organization locally, nationally, and internationally within the field. We achieve this through exhibitions, classes, public programming, literary presentations, opportunities for artists and writers, publications, and collecting.