Learn the long & link stitch bookbinding structures with artist and educator Sarah Nicholls in this online workshop.
This class will take place across two sessions:
Wednesday, September 23, 6-8pm EDT
Wednesday, September 30, 6-8pm EDT
This two-day course will cover basic bookbinding terminology and techniques, and the student will be able to make these structures along with the instructor. Students will learn methods of constructing a softcover longstitch book that can be made at home with minimal equipment, and they will also explore different options for personalizing their work. Longstitch is a versatile and attractive method of sewing multiple signature books that open easily and can be adapted in a variety of ways. Students will gain the skills to continue making books on their own and the instructor will provide a PDF handout.
Students will fold, mark up and punch signatures, construct folded paper cases, design a sewing pattern, sew one to two variations on the long stitch structure, and learn about ways to adapt the structure.
There are 12 spots open in this workshop.
If you cannot comfortably pay tuition but are interested in taking this class, please consider filling out our financial assistance application here. This application should be completed three weeks before the workshop's start date.
Students should have the following materials:
– scissors, pencil, exacto knife and cutting mat or surface to cut on
– bone folder (can substitute a butter knife)
– paper knife (or butter knife)
https://www.talasonline.com/Bookbinders-Knife
– bookbinding needle (could be any kind of regular sewing needle)
– linen thread – colored thread is a nice option, waxed if possible
– awl or pin tool to punch signatures and spine
– a little bit of PVA, or other kind of adhesive
https://www.dickblick.com/products/books-by-hand-polyvinyl-acetate-pva/
– small glue brush for glue
– scraps of bristol or cardstock or heavy stiff paper to make a spine piece
– ruler
– triangle
https://www.dickblick.com/products/blick-aluminum-triangles/
– pencil
Paper:
– for inner signatures: sheets of 8.5" x 11" paper, 24 sheets of text weight will give you 6 signatures of 4 sheets of paper each, folded in half. Grain short, so the grain runs parallel to the fold. If you have fewer sheets you will have thinner signatures. You can use thicker paper and fewer sheets per signature if that's what you prefer; this structure works with a variety of weights of paper.
– two sheets of 11 x 17 or larger cover weight paper. grain short.
If you have any questions about the materials list, feel free to email education@centerforbookarts.org.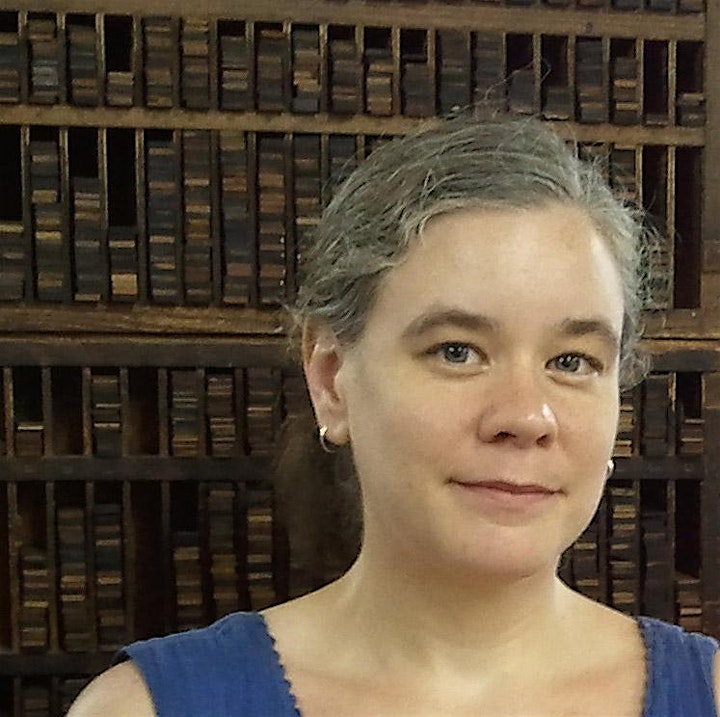 About the Instructor:
Sarah Nicholls is an artist, printmaker, and writer whose work combines language, image, visual narrative, and time. She publishes an ongoing series of letterpress pamphlets on climate change, urban ecology, and the history of science and technology, and organizes a range of participatory walks and programs around the series. Her limited edition artist books are in the collections of the Victoria & Albert Museum, the Brooklyn Museum, Columbia University, and Stanford, among others. Her work has received support from the Lower Manhattan Cultural Council, the Brooklyn Arts Council, and the Puffin Foundation, and she has participated in residencies at BRIC House in Brooklyn, the Chicago Center for Book and Paper Arts, and Guttenberg Arts in NJ. She teaches letterpress and book arts at Pratt Institute, Parsons School of Design, and University of the Arts in Philadelphia.
All images courtesy of the instructor.
About the Center for Book Arts:
The Center for Book Arts promotes active explorations of both contemporary and traditional artistic practices related to the book as an art object. The Center seeks to facilitate communication between the book arts community and the larger spheres of contemporary visual and literary arts, while being a model organization locally, nationally, and internationally within the field. We achieve this through exhibitions, classes, public programming, literary presentations, opportunities for artists and writers, publications, and collecting.