Learn about the art of storytelling by creating your own papercut stage with instructor and artist Béatrice Coron.
Masking and revealing is essential to story telling and will be played with to create a stage in form of a tunnel book, multi-layers card or artist book. Looking at historical forms of Japanese and Victorian paper theaters, we will explore news ways to tell a story with cut papers. Participants will learn different techniques of papercutting and how to design a stage for a story to develop. Stop animation, video inclusion, and live performance will be discussed. Tips, tricks and resources will be provided. All levels of experience are welcome.
Students should have the following materials:
– cutting mat
– exacto knife, blades 11
– binder board or cardboard
– tape
– glue
– stapler
– US letter-size paper and cardstock
optional:
– recycled papers (magazines, cereal boxes)
– art supplies
– thread & needle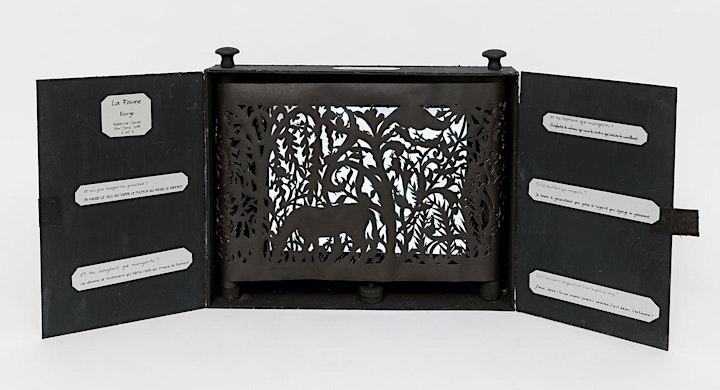 About the Instructor:
Béatrice Coron is a studio artist who creates papercutting, artist books, digital animations and public art. She cut surprising shapes and environments for words and thoughts. Her work can be seen in major collections such as the Metropolitan Museum of Art and the Walker Art Center. You can see her public art in subways in New York, Los Angeles and Chicago.
All images courtesy of the instructor.
About the Center for Book Arts:
The Center for Book Arts promotes active explorations of both contemporary and traditional artistic practices related to the book as an art object. The Center seeks to facilitate communication between the book arts community and the larger spheres of contemporary visual and literary arts, while being a model organization locally, nationally, and internationally within the field. We achieve this through exhibitions, classes, public programming, literary presentations, opportunities for artists and writers, publications, and collecting.