Join artist Robbin Ami Silverberg for a show and tell, as she guides you through eight of her artist books.
Robbin Ami Silverberg invites you to her world at Dobbin Mews, where she has her artist book studio and paper mill. Silverberg will present a selection of 8 of her artist books that highlight her emphasis on paper as activated substrate. She will explain her process, focusing on several papermaking techniques: watermarks, inclusions, water drawing & pockets — in the wet state / and spun, burnt, & cut paper in the dry state.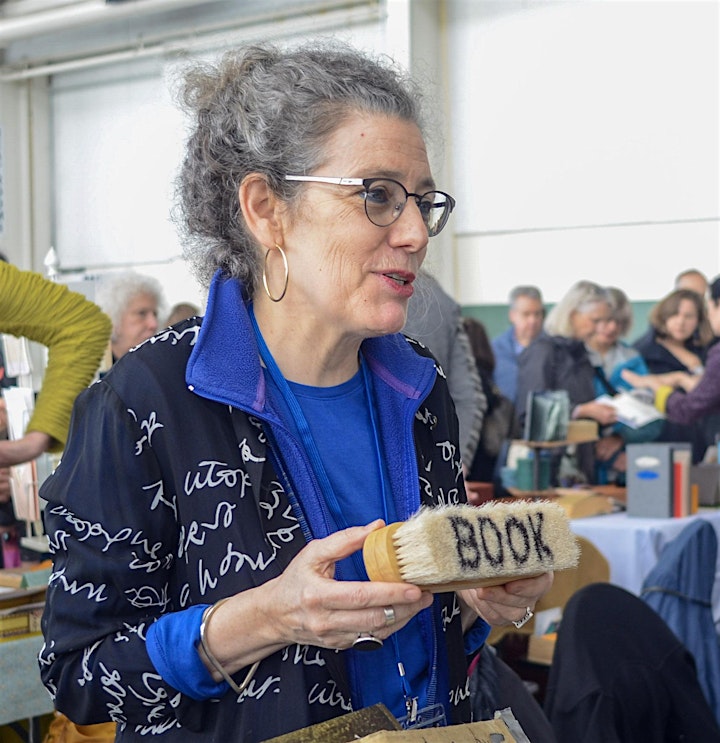 About Robbin Ami Silverberg:
Robbin Ami Silverberg is the founding director of Dobbin Mill, a hand-papermaking studio, and Dobbin Books, whose 30th year anniversary is being commemorated by her retrospective, "Read Me. Like a Book". Examples of her artist books are found in over 130 public collections & numerous private ones.
Silverberg's artwork is divided between artist books and site-specific installations. She has both exhibited and taught extensively in the United States, Canada, South Africa, South Korea, Mexico, and around Europe. Paper has consistently been her preferred material, and she has explored its potential as a non-neutral substrate in her image-making, bookmaking, and process. She is represented by Galerie Druck & Buch, in Vienna, Austria.
Silverberg, a graduate of Princeton University, is the professor for "Art of the Book" & coordinator of the BOOK minor at Pratt Institute, Brooklyn.
Header image: Silverberg with Solomon's Wisdom I, courtesy of Dorka Hubner.
About the Center for Book Arts:
The Center for Book Arts promotes active explorations of both contemporary and traditional artistic practices related to the book as an art object. The Center seeks to facilitate communication between the book arts community and the larger spheres of contemporary visual and literary arts, while being a model organization locally, nationally, and internationally within the field. We achieve this through exhibitions, classes, public programming, literary presentations, opportunities for artists and writers, publications, and collecting.