This workshop is pay-as-you-wish, with a suggested donation of $50, which will be used to pay the instructor and to support the Center.
This is a two-part workshop:
Wednesday, June 17, 6-8pm EST
Wednesday, June 24, 6-8pm EST
Relief Printing Anywhere will be a two-session workshop. The first class will focus on materials to create the relief blocks from, image transferring techniques, tools for carving, proper carving techniques, and sharpening your carving tools. The second class will focus on proper printing techniques, registering multiple blocks, and reduction woodcuts.
Students will learn the basics of relief printing at home. We will discuss ways to create relief blocks from materials around your house (potatoes, erasers, styrofoam) as well as more professional materials like wood and linoleum. We will also cover a few tricks for printing including registering multiple colors and spoon-printing.
Students should have the following materials:
Week 1:
– Pencil
– Marker
– Carving tools*, this is the linoleum carving set I recommend:
https://www.dickblick.com/items/40203-1009/
– Linoleum**, I recommend one that says "easy-to-cut" like this 4″ x 6″ linoleum: https://www.dickblick.com/items/40435-1046/ (available in different sizes and stores as well)
– Tracing paper (optional)
– Transfer paper or charcoal (optional)
– Laser print and acetone (optional)
Week 2:
– paper, thin is better but any should work
– brayer
– ink, ideally block-printing ink
– a piece of plexiglass or glass to ink on (you could use cardboard and packing tape if necessary)
– pencil
– wooden spoon or similar
– cardboard
– pallet knife (optional)
– tape (optional but very helpful)
* If you do not want to buy the carving tools, you can also use tools you may have around your house like drills, saws, awls, knives, X-Acto knives, dremel tools, wood burning tools, etc.
** If you do not want to buy linoleum, I will also be showing how to print using items around your house as well. You may be able to find old linoleum floor tiles, potatoes, scrap wood, plexiglass, plaster, etc. that could be used instead of purchasing linoleum.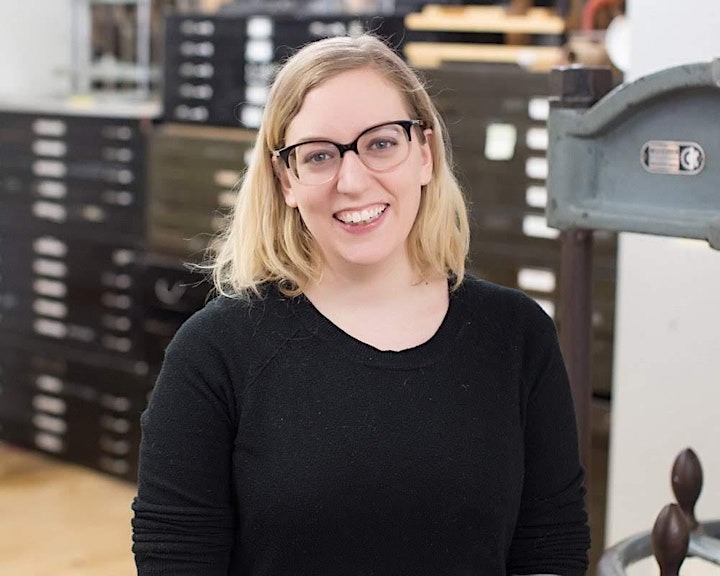 About the Instructor:
Beth Sheehan is a printmaker, papermaker, and book artist living in Tuscaloosa, Alabama. Her work investigates ideas of memory and perception to explore her own lack of episodic memory. Her work has been exhibited internationally and is held in public collections including the Metropolitan Museum of Art, The Center for Book Arts, and the San Francisco Public Library. Sheehan has worked as a professional printer at Durham Press in Pennsylvania and at Harlan and Weaver in New York. She was also the Lead Binder and Bindery Manager at Small Editions in Brooklyn and teaches paper, print, and book workshops around the country.
About the Center for Book Arts:
The Center for Book Arts promotes active explorations of both contemporary and traditional artistic practices related to the book as an art object. The Center seeks to facilitate communication between the book arts community and the larger spheres of contemporary visual and literary arts, while being a model organization locally, nationally, and internationally within the field. We achieve this through exhibitions, classes, public programming, literary presentations, opportunities for artists and writers, publications, and collecting.